OWNING LESS MEANS FREEDOM
Dive into the world of vintage experts Sissi Pohle and Patrick Scherzer and discover why they traded the bustling city of Berlin for the calming countryside, which of our new 100% recycled cotton DetoxDenim pieces is a must-have in their wardrobe, how to style and care for it and why less can be better.
What's your passion?
Together as a couple we share a passion for nature, for travelling to our favorite places and of course our love for fashion and interior design. We are inspired by our surroundings and the people we meet. Music and art also play an important role for us. We are very open to a wide range of impressions, we reflect on things, but we also learned to act based on our feelings. This is where the best opportunities and situations arise. For us, it's all a process of learning and finding out what we really want. We missed the nature that was around us when we both grew up at the countryside. That's why we quickly made the decision to leave the big city behind us and move back home. Surrounded by silence, we can be creative at our best. But also our work in Paris or Milan always gives us new opportunities to discover something in the noisy rush. We think the mix of both worlds makes us who we are.
What is a perfect pair for you?
The perfect pair is characterised by comfort and adaptability to the body. Longevity makes it something valuable. The most important thing about the right pair is that they are uncomplicated - both to wear and to care for.
What characterizes your style?
Very early in our relationship we started sharing our wardrobe. We would say that we look different every day because we also feel different each day. Sometimes we wear our loud pieces and other days it has to be practical and cozy. But it is always important that we feel comfortable, that nothing pinches or that we squeeze into sizes that are too small. In our wardrobe you can find a lot of oversized pieces and it is also very colorful and contains a lot of striped pieces. We love colorful stripes very much! Nevertheless, we also have some classics in our wardrobe - treasures from past times and great fashion houses. Our looks are often very childish, as we mix everything we can get our hands on. The only thing that matters to us are the cuts for the right silhouettes. We also pay a lot of attention to the fabrics of the individual pieces, but that all happens naturally and automatically for us. It gives you a lot of freedom not to think so much about what you combine and just try it out. Since we have understood this point, it doesn't happen anymore that we feel uncomfortable after getting dressed and have to change again. That's probably how our own look is created.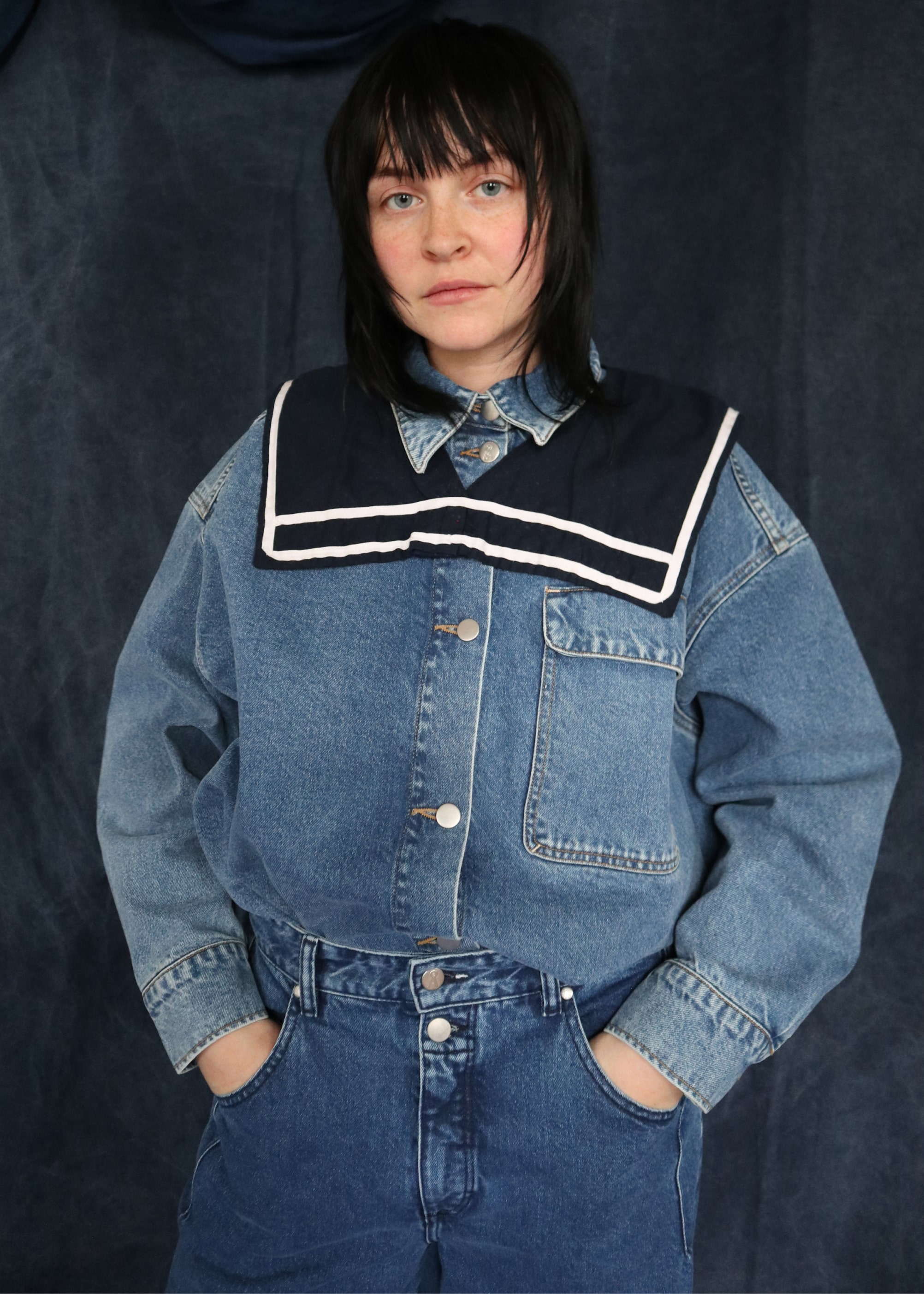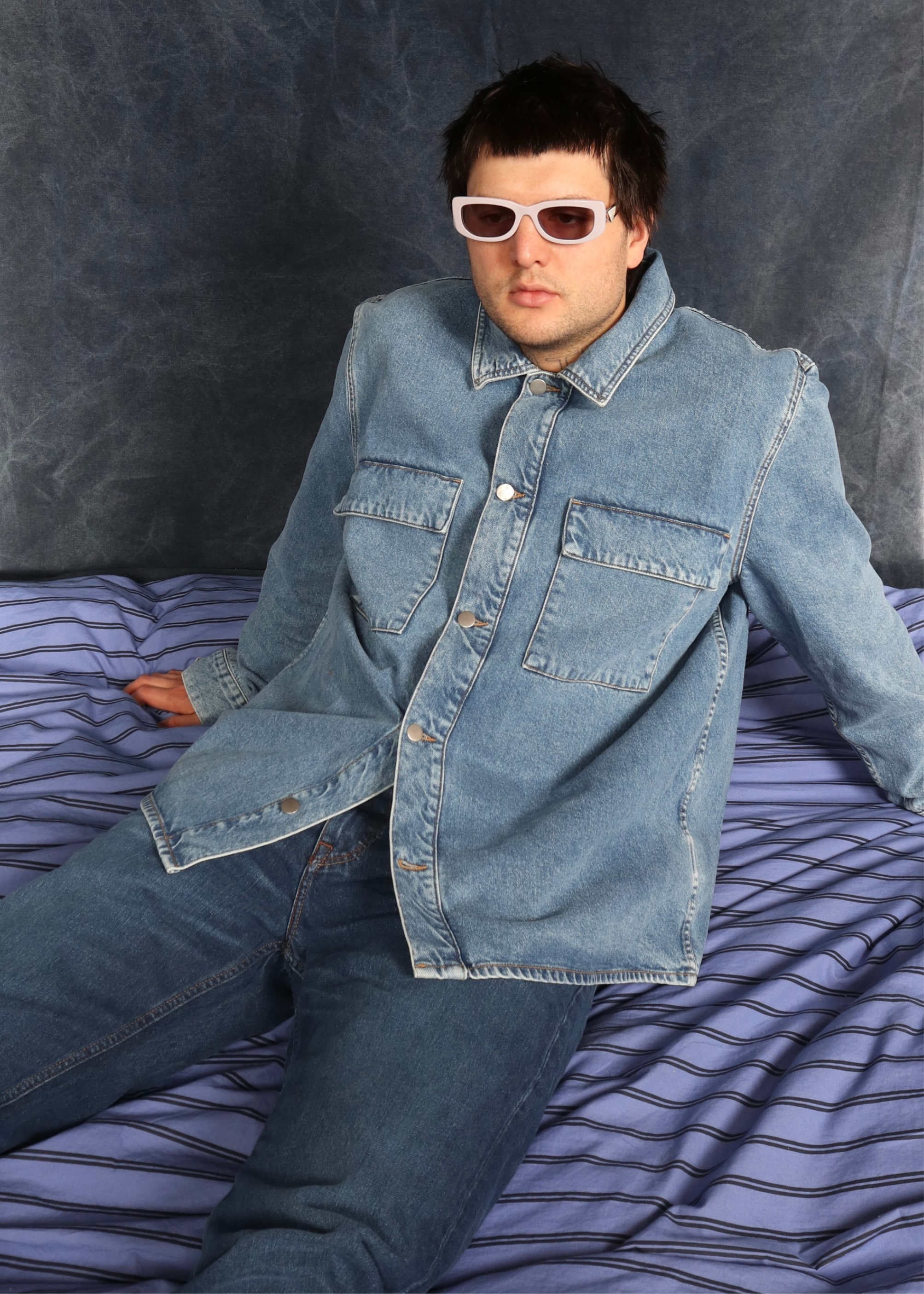 What's your favorite piece of the collection and why?
Our favorite piece of the collection is the thick denim jacket with the two chest pockets. Especially in our current everyday life, which takes place between renovating the house and creative work – practical pieces are at the top of our list. The denim jacket stores everything you need and always gives you a free hand. In addition, this piece feels like a second skin and gives you a good attitude.
Is Denim a special piece of clothing for you and do you have any hack for styling it?
Denim and jeans materials are strongly rooted in the history of fashion. We actually still see denim as a very rough material and love the reference of the material with workwear. Denim is something for everyone and accessible to all ages. The material has the particularity to live with the time, to wash out and to look worn. By wearing it, denim takes on a character that cannot be recreated industrially or in design. The material can be combined with all other materials, but we think it is even nicer to combine it with the same material – denim on denim. A complete denim look can be simple yet exciting. You have the option to work with funky bags or shoes as well as big exciting jewelry. You can think of it as a blue canvas that is perfect as a basic framework and allows for many possibilities to add to it.
What are your personal tips for wearing and loving your clothes for the longest time possible?
Our clothes are very important to us, because we buy them wisely and not based on trends. We pay a lot of attention to the care of each piece. Careful washing depending on the material and turning them the wrong way round is a matter of course for us. Sensitive materials that have to be treated with care due to their composition or very old pieces are packed in boxes after the washing and drying process to protect them from moths or material damage.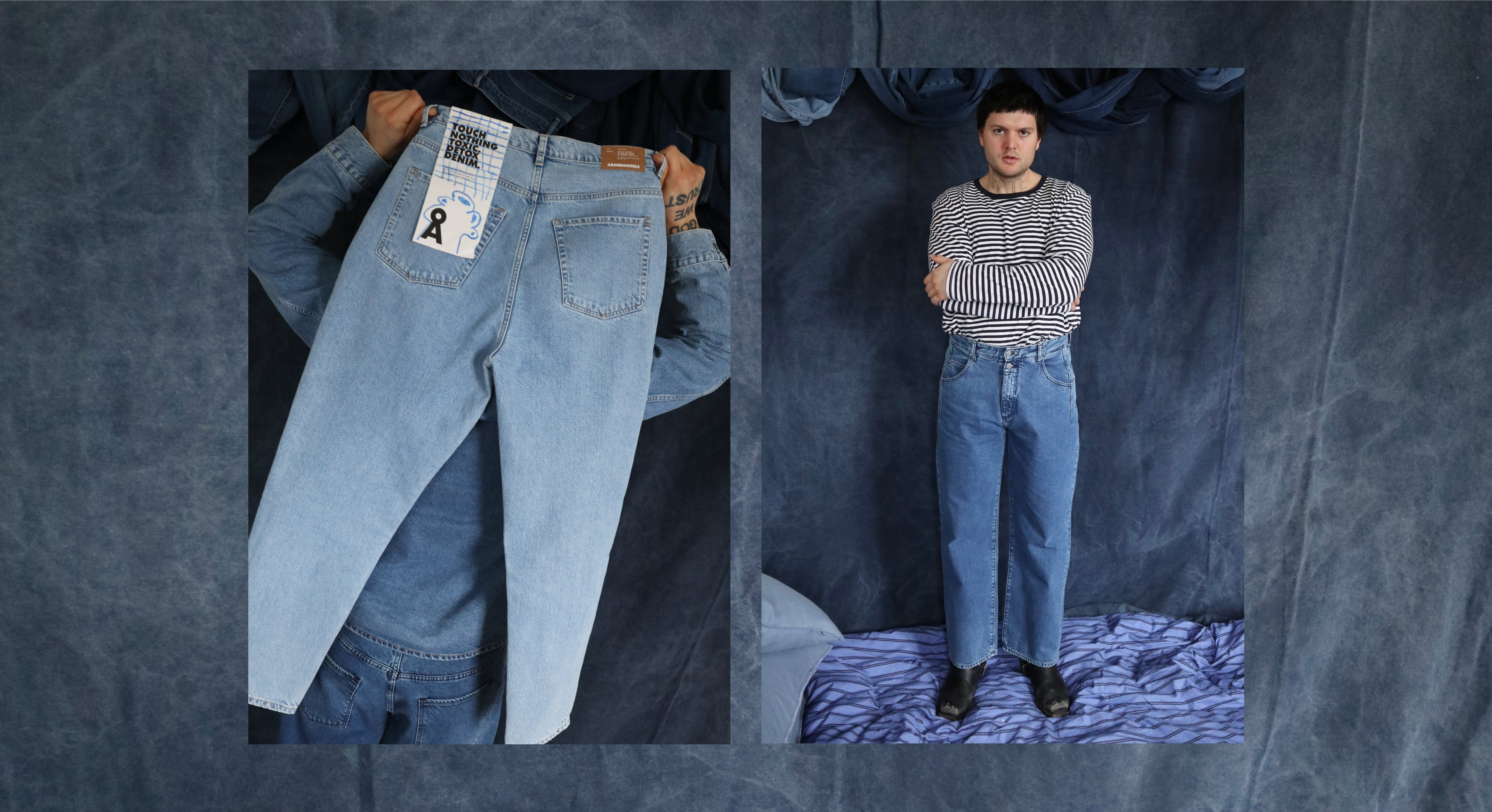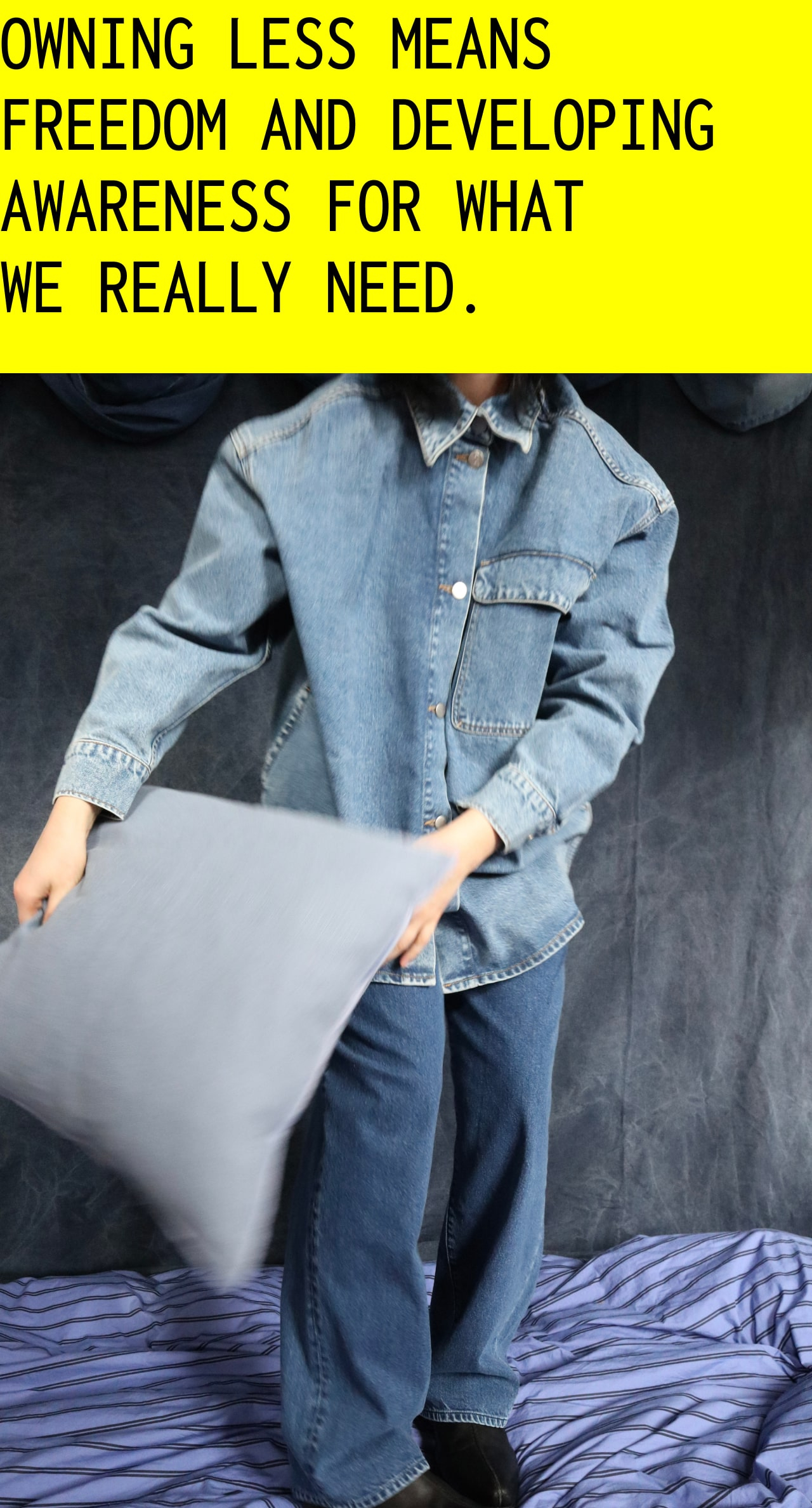 Do you think less is better?
Owning less means freedom and developing awareness for what we really need. It is a relief to live without trends and still love fashion with an open heart. To focus on long-lasting and durable pieces. We consciously buy less and only what we really fall in love with. With our vintage shop outofuseberlin we follow the same route. We offer our clients a range of vintage products that we would wear ourselves or see in our home. Mainstream and thoughtless consumption does not play a role for us. It's the same in our business as it is in our private lives.
How would you describe making a difference in everyday life? 
How do you as a couple take action together?
We want to buy consciously less new and put our main focus on vintage. Our home is furnished to a very large extent with second-hand furniture and objects. In our wardrobe there are also more vintage pieces than new ones. When we buy something new, we always share it. We also don't have a separate wardrobe. But we also have clear ideas about sustainable partnerships in our business life. When we work with brands, it is always necessary to us that we only accept gifts that we really wear.
Why did you decide to work with ARMEDANGELS?
The company's attitude towards the environment and the careful production of the pieces we are allowed to wear left no room for doubt that the brand might not suit our way of thinking. The visual language of ARMEDANGELS also appealed to us because it is not only minimalist and also leaves room for creative realisation – it is colorful and diverse. A good combination to start an exciting partnership.

A big thank you to Sissi and Pat for giving us a glimpse into your world! Follow Sissi & Pat on Instagram and see more.