Get active with our GRS-certified* ACTIVEWEAR. Our sportswear combines sustainable material technology and stretch-support know-how to create performance-perfected essentials.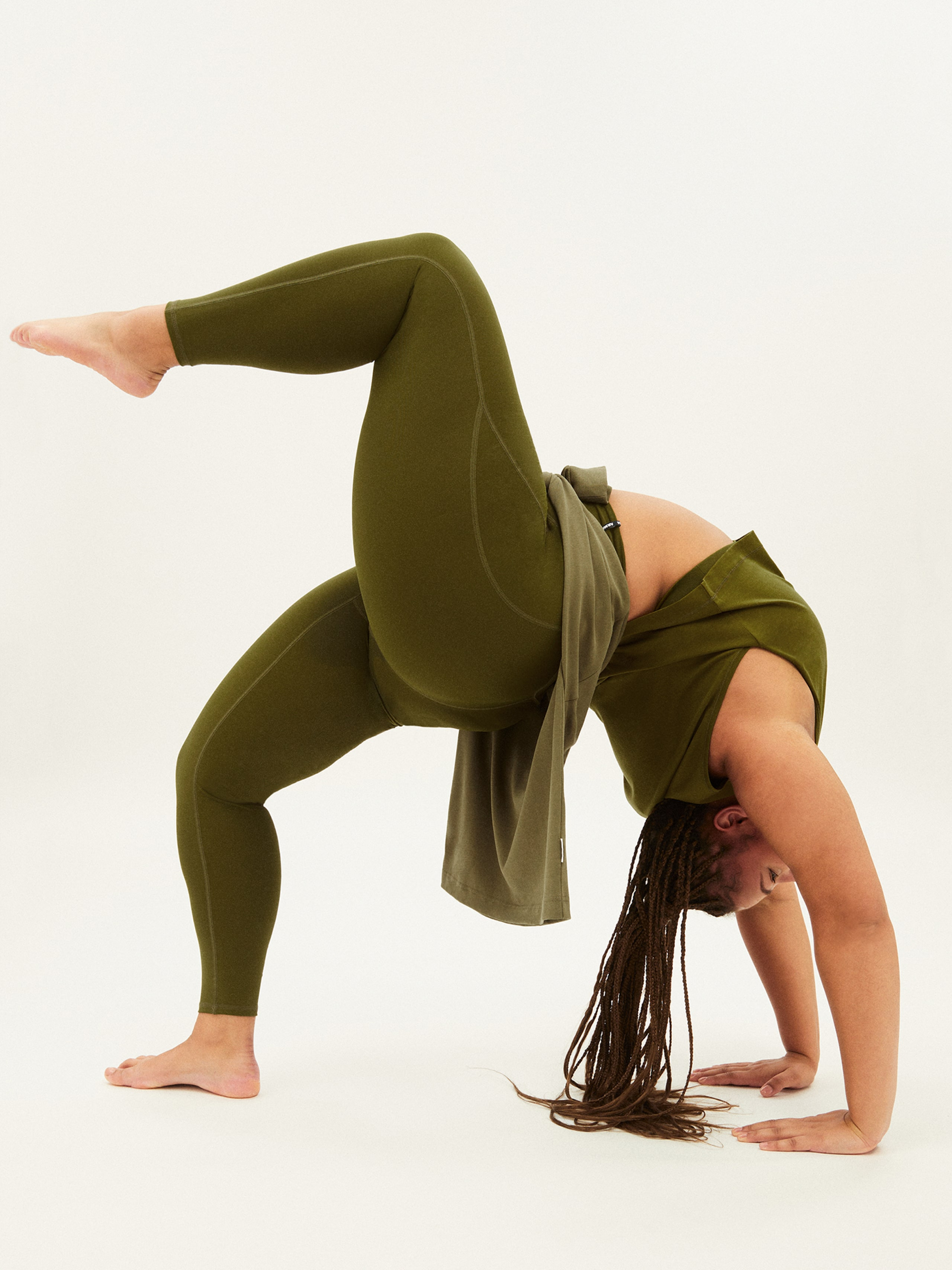 (RE)CYCLING TO THE MAX
Our quick-dry and breathable sports bras and leggings with anti-bacterial treatment are made from an innovative, GRS-certified* performance fabric that maximizes the use of recycled pre-consumer waste in every piece. A whopping 100% recycled polyamide teams up with elastane, also with a 58% recycling share. That's algebra that doesn't give us a headache, making a total of 93% recycled raw material.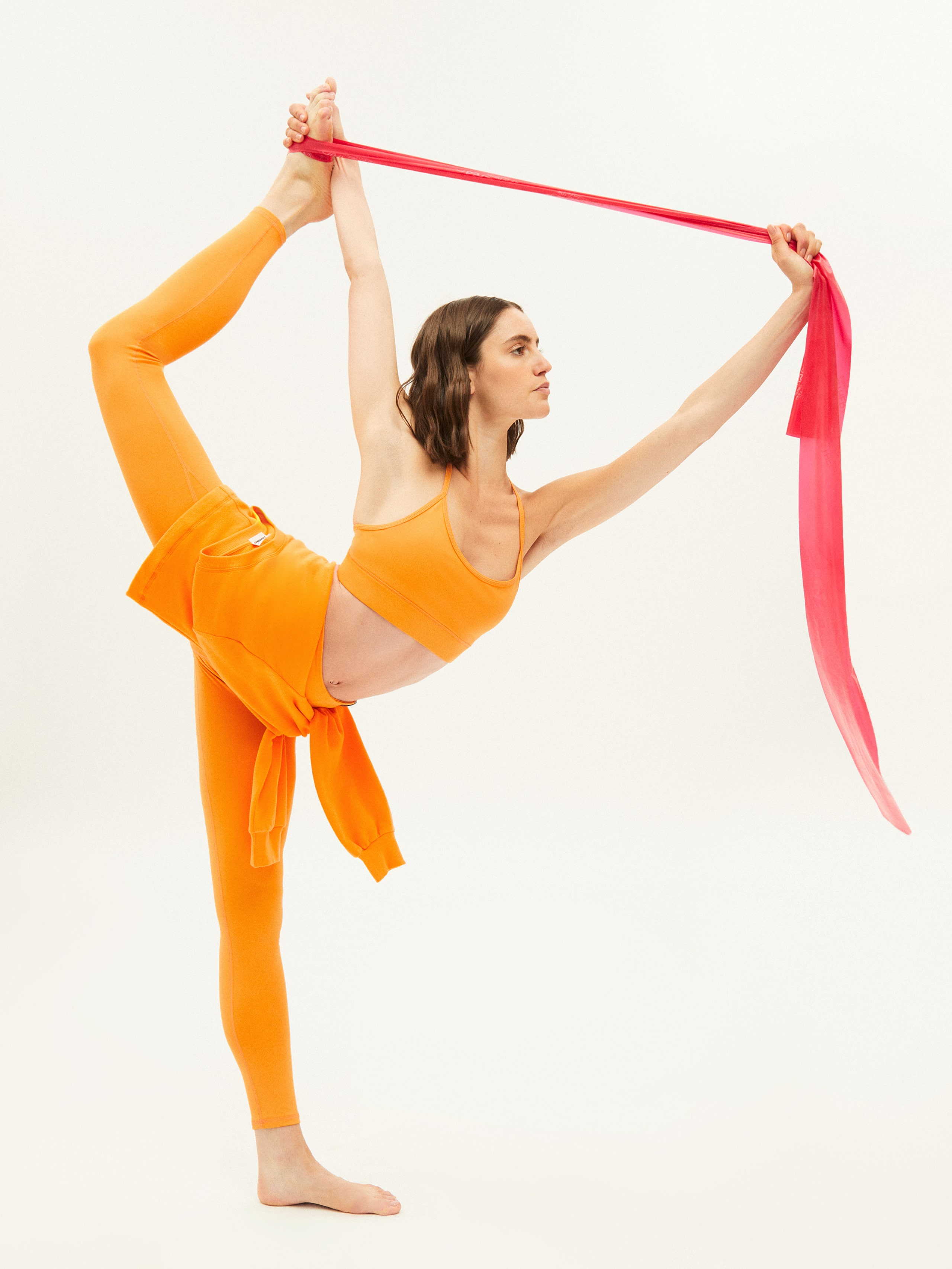 MADE FROM WOOD. MADE TO MOVE. SUPER SOFT. SUPER FLEXIBLE. SUPER SUSTAINABLE.
Our flowy ACTIVEWEAR shirts are made from a performance-forward mix of TENCEL™ Lyocell, organic cotton and elastane, light and airy to wear while retaining a signature bounce that allows you to flex, bend and stretch in any way you want. We use Naturally clean® finish to ensure all colors and surfaces stay vibrant and smooth while extending the garment's life by at least 20% – reducing carbon, water and waste footprints for every piece in equal measure.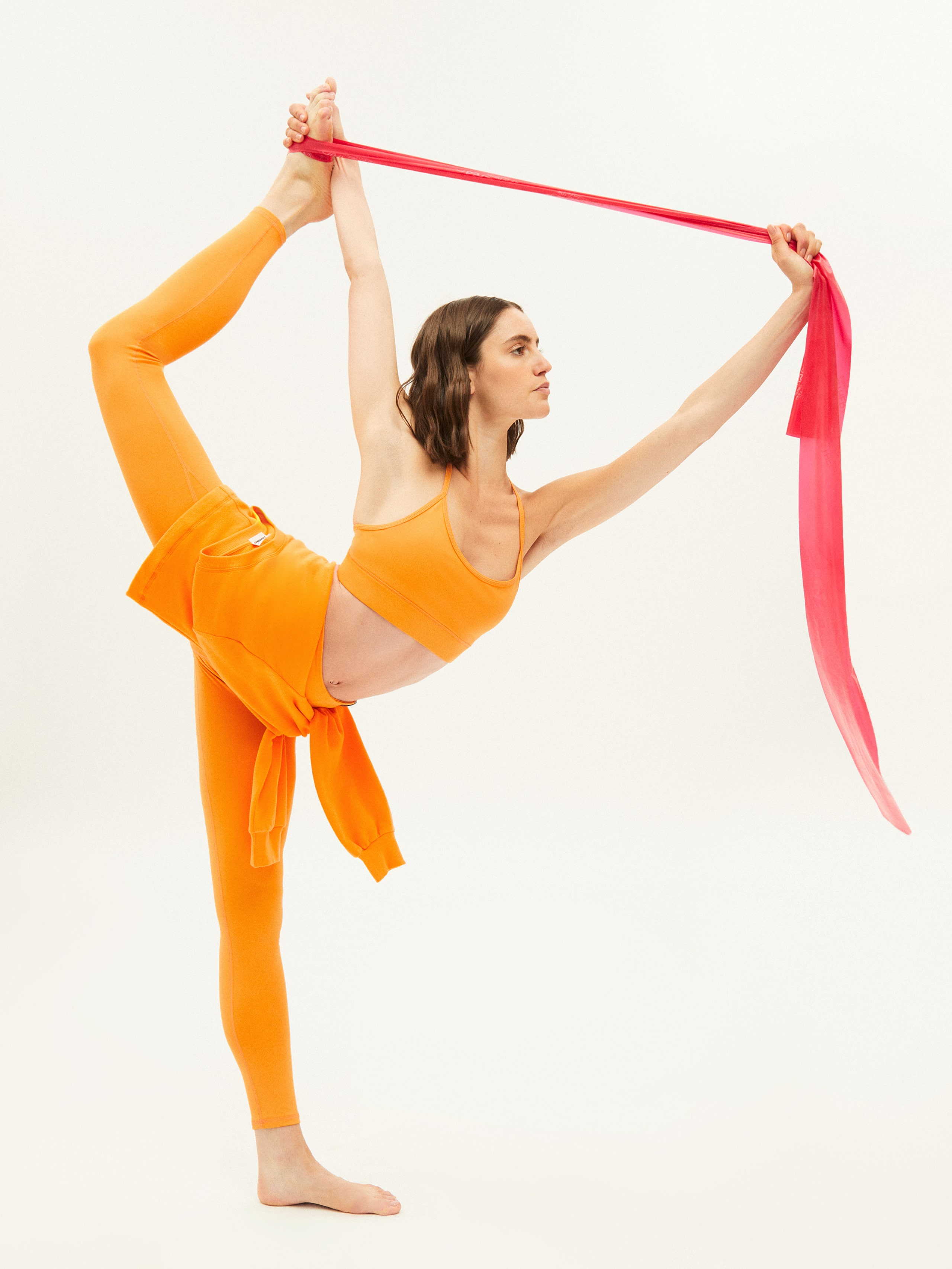 LIVE LONG. LOVE LONG.
Why did we choose recycled polyamide? Not only is it recycled and helps us save precious virgin fiber. It's durability, breathability and quick-dry properties are ideal for performance fabrics – something natural fibers like cotton cannot provide with current technology. We took precaution to keep the impact as low as possible, and so should you, by following our care instructionsand by using a washing bag. To help protect the environment and to extend your ACTIVEWEAR's life.
What do I need to know about the fabric?
Leggins und Bras:
Our ACTIVEWEAR leggins and sportsbras are made with 93% recycled material, setting a new standard when it comes to saving precious resources. Main material is 100% recycled polyamide, coming from prodcution waste.
Our products are GRS-certified*.
We're offering a breathable, durable, quick-dry product while maximizing the use of recycled fibers.
The raw material are fibers that are spinning waste, i.e. residuals from production. This happens to be a scarce resource, therefore if some styles may be out of stock, bear with us. It can always take a while to produce new ACTIVEWEAR.
Shirts:
Main material for our soft & sporty shirts is TENCEL™ Lyocell. Lyocell is a cellulose fiber with wood as regenerative resource. ACTIVEWEAR Shirts are light and breathable and the Naturally Clean® Finish extends their life by 20%. [Source: Novozymes A/S].
GRS stands for Global Recycled Standard. Our ACTIVEWEAR leggins and sportsbras are our very first GRS certified products.
The Global Recycled Standard (GRS) is an international, voluntary standard that set requirements for third-party certification of recycled input and chain of custody. The goal of the standard is to increase the use of recycled materials. The GRS includes additional criteria for social and environmental processing requirements and chemical restrictions.
For our ACTIVEWEAR leggins and sportsbras we're using 93% recycled fibers. The polyamide is 100% recycled. Polyamide globally is the second most frequently used synthetic fiber, recycled polyamid however only represented 1.94% of all polyamid used in 2020. [Source: Textile Exchange, Preferred Fibers Market Report 2021].
Why do you use synthetic fibers?
Synthetics have a bad reputation and most often for a reason. While fibers like cotton are regenerative, synthethics depend on oil, which raises red flags.
It's worthwile taking a closer look: even cotton isn't good per se. An enormous contamintaion of water, often in regions already suffering from drought, an irresponsible use of synthetic, chemical pesticides and hazardous fertilizers are among the reasons that made us choose organic over conventional cotton for our cotton products.
For performance fabrics, products used for excercising, even organic cotton reaches its limitations. And that is due to its characteristics. Regenerative fibers like cotton absorb sweat, start smelling and are drying slowly.
For our leggins and sportsbras we therefore searched for the most sustainable solution and are working with a fabric that is quick-dry, lightweight, breathable and durable.
We're using recycled polyamide, that is 100% made from production waste. According to industry experts, polyamide is less likeley for fiber breakage.
Polyamides like nylon supposedly are abrasion resistant. [Source: European Outdoor Group/Outdoor Industry Association via microfibreconsortium.com].
In addition we're avoiding mechanical treatments that could harm the surface, which could cause a loss of fibers.
But while benchmark studies missing, we suggest to take note of our care instructions.
By the way: the elastane used is also 58% recycled. In total we're at a 93% recycling share - the most gentle on resources we can offer when it comes to performance fabrics.
The rest is on you: please take not of our care instructions and enjoy ACTIVEWEAR!
<
Why should I use a washing bag?
You sure have heard of microplastics. While washing, microfibres from synthetic textiles can release and make their way from rivers, lakes, and oceans.
Tip: Use the Guppyfriend washing back, also available in our Webshop. According to Fraunhofer Institut UMSICHT, on average 86% fewer fibres of synthetic clothing break when using the washing bag. The fibres that do break are collected in the corners of the washing bag after washing and can be easily removed and disposed of.
By the way: not only can you help protecting the environment, but your garments also live longer when taken proper care of.
Positive side effect: The producer is supporting STOP! Micro Waste with the profits. This NGO is raising awareness for (micro)plastic pollution and is conducting workshops for partners, consumers and educational institutions on how plastics can be kept away from polluting nature.
How do I take care of my ACTIVEWEAR?
Study care instructions
To wash your garments the best possible way, always study care instructions.
Use a washing bag like Guppyfriend
To protect your garments and to prevent microplastics from entering nature you should wash your ACTIVEWEAR with a washing bag. You can find the Guppyfriend bag in our webshop.
Sort your clothes the right way
Separate hard from soft textiles before washing. Don't mix garments with a rough or tough surface like Denim with items with a soft surface, no matter if ACTIVEWEAR or e.g. fleece items. You can protect nature and keep your garments for longer!
This implies: please don't wash shoes together with sensitive garments!
Use eco-friendly detergent
Select an eco-friendly detergent and do not overdose. Eco-friendly color detergents are recommended. More soap doesn't make your garments cleaner, but can harm the environment.
Reduce rotation speed
Select a low spin speed. Heavy rotation can leverage friction.
Don't tumble dry
Mechanical stress inside a tumble dryer can cause fibers to break. Our ACTIVEWEAR is fast-drying, so just air-dry it..