The fashion industry lacks a scaleable solution to deal with the growing amount of unwanted clothing. This is exactly what we aim to test with the circularity.ID®. We call that responsble innovation.
Leveraging data & technology is crucial to accelerate the transformation towards circularity in fashion. This is why our new Circular Tee is coming with a circularity.ID® - and you can become a pioneer.
Our new Tees with circularity.ID® come with an NFC-tag sewn into the sleeve. You can scan it with an NFC-ready smartphone and you'll be directed to information e.g. regarding producers and fabric composition. And of course you can give it back into the loop with our take-back-system.
Within the Closed Loop project with circular.fashion and Fairwertung e.V., we're testing intelligent systems for sorting, resale and recycling in a real-life-setting.
Our goal: testing a closed loop for textiles under real conditions, allowing to establish a circular infrastructure beyond the project's pilot phase.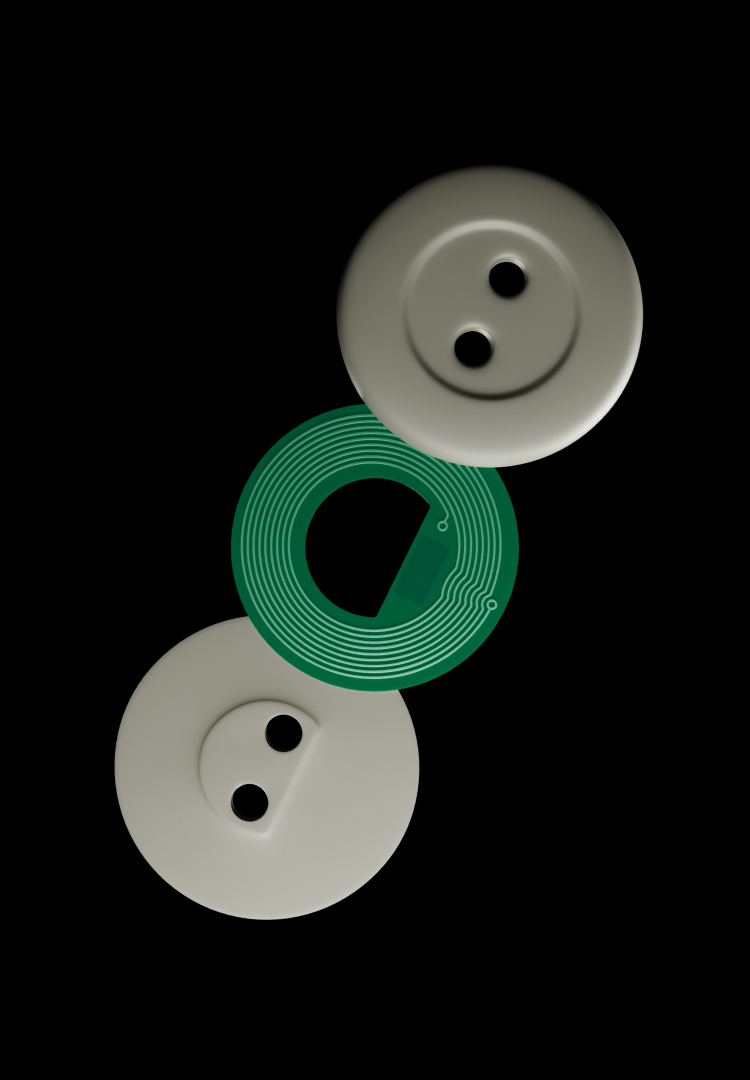 While the fashion industry has built a highly effective global supply chain that can design, source, manufacture and deliver garments to the end consumer in a matter of weeks, it lacks a scalable solution to deal with the growing amount of unwanted clothing.
We're here to make a difference and move forward with the Closed Loop project and thy circularity.ID®. With the ID and intelligent sorting stations, goal is to directly identify the exact material composition as well as commercial factors such as the resale value of waste textiles, thus more accurately allocate sorting fractions.
An improved sorting quality facilitate serving higher-quality reuse or recycling fractions like fibre-to-fibre recycling, for which today information such as the exact material composition is lacking.
Sounds complicated? Well, it is, due to the wide variety of parties involved along the value chain. But we're making the next step, with you!
PS: with out without an NFC-tag, our Circular Tees are always a good choice: next to 50% TENCEL™ Lyocell, they are made with 50% organic cotton from our own cutting waste, allowing us to save precious virgin fibre.
As a consumer, how can I scan it. Do I need an app?
The only thing you need is a smartphone with NFC (which should be any recent smartphone). For some phones, the NFC is not turned on by default, so you have to turn it on manually. When you scan the ID, you will be directed to a landingpage on circularity.id.
How do I take care of my Circular Tee with circularity.ID®?
The tags are safe to wash them with standard washing machines for ~200 cycles. No extra care needed.
Does the circularity.ID® emit radiation? Can it interfere e.g. with pacemakers?
The tags themselves are passive. This means that they cannot generate a magnetic field or emit radiation on their own. Similar chips are commonly used, e.g. in credit cards or entrance security systems.
It is also not possible for them to interfere with pacemakers, hearing aids or other medical devices. This only becomes possible when readers are used. These are the ones that generate magnetic fields and consumers with pacemakers should stay away from them. So, someone who has e.g. a pacemaker may not be able to read their NFC tag because they are not supposed to use the NFC function on their mobile phone. However, users of pacemakers should generally be aware of this as it is the same for any other NFC functionality of smartphones.
So if there is and NFC-tag inside, does my future shirt send information about me?
The NFC-Tag is passive, it does not actively send any information and it only has a limited reading distance. Plus, it does not store or give access to any personal data.
How do I use the Take-Back-System?
That's quite simple and explained here. Currently we can only offer the Take-Back-System to customers located in Germany, but we're working on extending it.
Where can I learn more about the circularity.ID® erfahren?