On 24 April 2013, over 1,100 garment workers lost their lives in the Rana Plaza factory collapse in Dhaka, Bangladesh. Even more were injured. And even more are waiting for justice. To this day, garment workers still hunch over sewing machines in squalid and dangerous conditions, all in the name of fast fashion. We're here to demand change and demand justice.
JOIN THE REVOLUTION.
Together with German artist and activist Steffen Kraft, we've redesigned our Fashion Revolution T-shirt from last year to commemorate the 10-year passing of the Rana Plaza disaster and remind us of the human cost of fast fashion. Made from 100% organic cotton, it not only upholds the highest standards for people and planet, we also donate all profits from sales to NGWF for the sixth year running. The National Garment Workers Federation is a Bangladesh-wide organization that takes legal action to protect the rights and dignity of workers in the garment industry.
NO FASHION WITHOUT THE PEOPLE BEHIND IT
Over the last 5 years, ARMEDANGELS collected a total of 69,367 € for NGWF. The donation from last year resulted in a compensation payment of over 258,000 € to the textile workers, and enabled NGWF to:
rehire 155 workers
Give 403 workers training benefits
Pay 426 workers compensation
Continue 1.055 case hearings
ABOUT THE ARTIST
STEFFEN KRAFT
Steffen Kraft is a German artist and activist that goes by the online alias ICONEO. In his work, he explores the problems and tensions of our modern-day society through thought-provoking illustrations. From political and environmental issues like global warming to social pressure and technology addiction, many people – maybe even yourself – will see themselves in Kraft's work and can relate to the feeling of being overwhelmed by modern-day life.
How was the design creation process?
First, I had a lot of research on the art and culture of Bangladesh. I noticed that tigers appeared frequently in pictures and discovered that the Bengal tiger is one of the national animals of Bangladesh. I also examined the appearance of garment workers and the textile industry in the country. After that, I sketched out initial ideas and tried to combine a few elements so that they would fit the existing text on the T-shirt. Ultimately, I found that the combination of a garment worker and a tiger was the strongest.
What message does your artwork convey?
The illustration combines a garment worker with a Bengal tiger, symbolizing the power of the fair fashion movement. The tiger represents the work of the garment workers, and the image motif stands in contrast to the terrible event described on the textual level, offering something positive and motivational.
What does your work have to do with Fashion Revolution week/ARMEDANGELS/the fashion industry?
Normally, you don't see a motif on T-shirts that has anything to do with the production of the T-shirt itself, let alone see the garment workers. This motif sends a clear signal that a T-shirt is not just a piece of fabric, but rather, it is a product that has been made by human hands.
How did you like the creation process of this artwork that was for this special topic? Was it different from your usual work?
One particular challenge was integrating the image into the existing text without it standing on its own. Additionally, the motif needed to avoid negativity while still conveying a strong message. Despite these challenges, I loved the opportunity they presented. Personally, I find it easier to be creative when I have limitations and a framework to work within, as in this case. Furthermore, it's a great feeling to know that my work is helping people.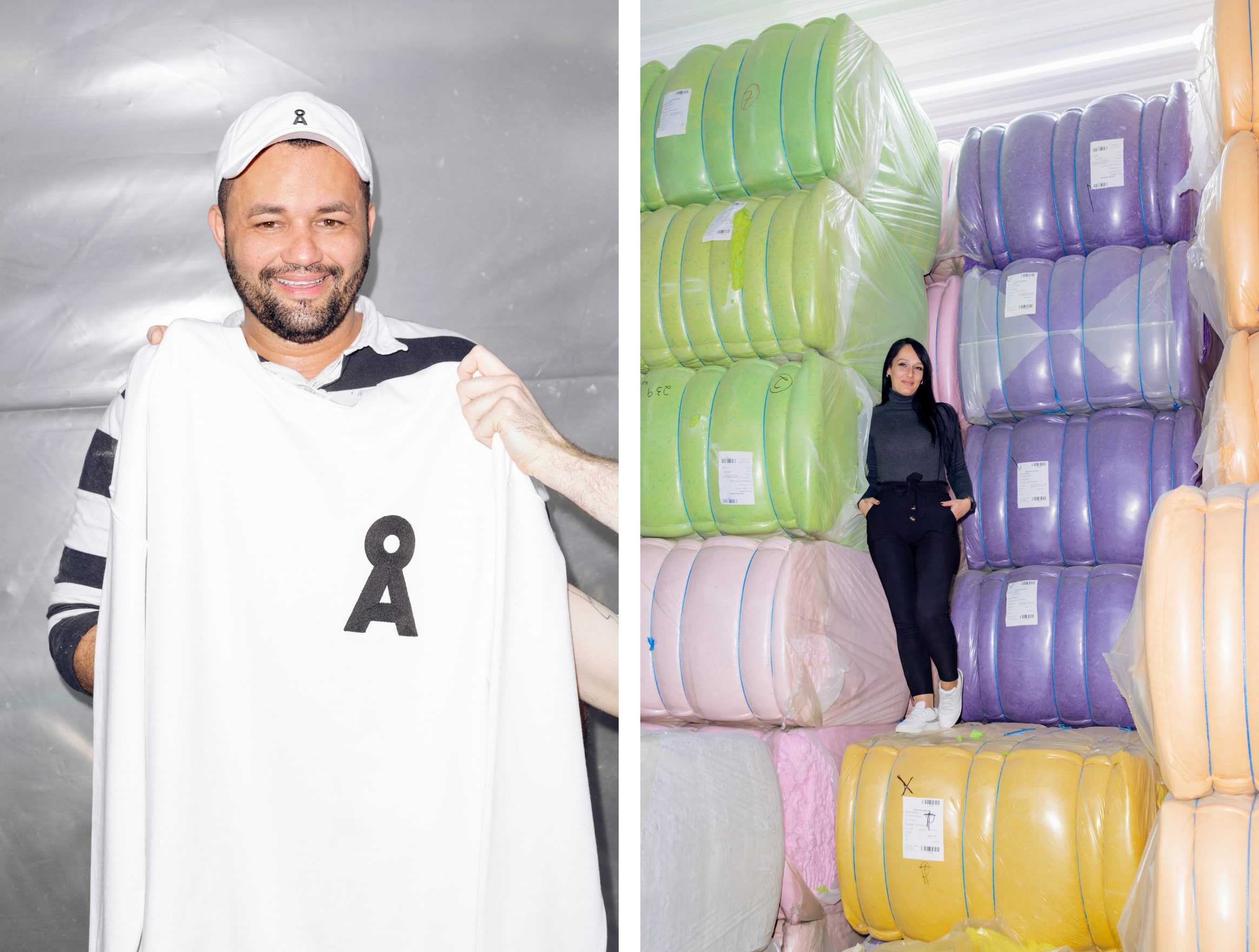 WORDS MATTER. BUT ACTIONS DEFINE US.
We believe that fashion should NEVER come at the cost of people. That's why we know all of our suppliers. Each and every one of them. Personally. So we can ensure every garment is made in safe working conditions and workers are paid above legal minimum wages. Join our movement and be part of the solution, so that we can make sure Rana Plaza never happens again. Question fast fashion, inform yourself, consume consciously and join the revolution.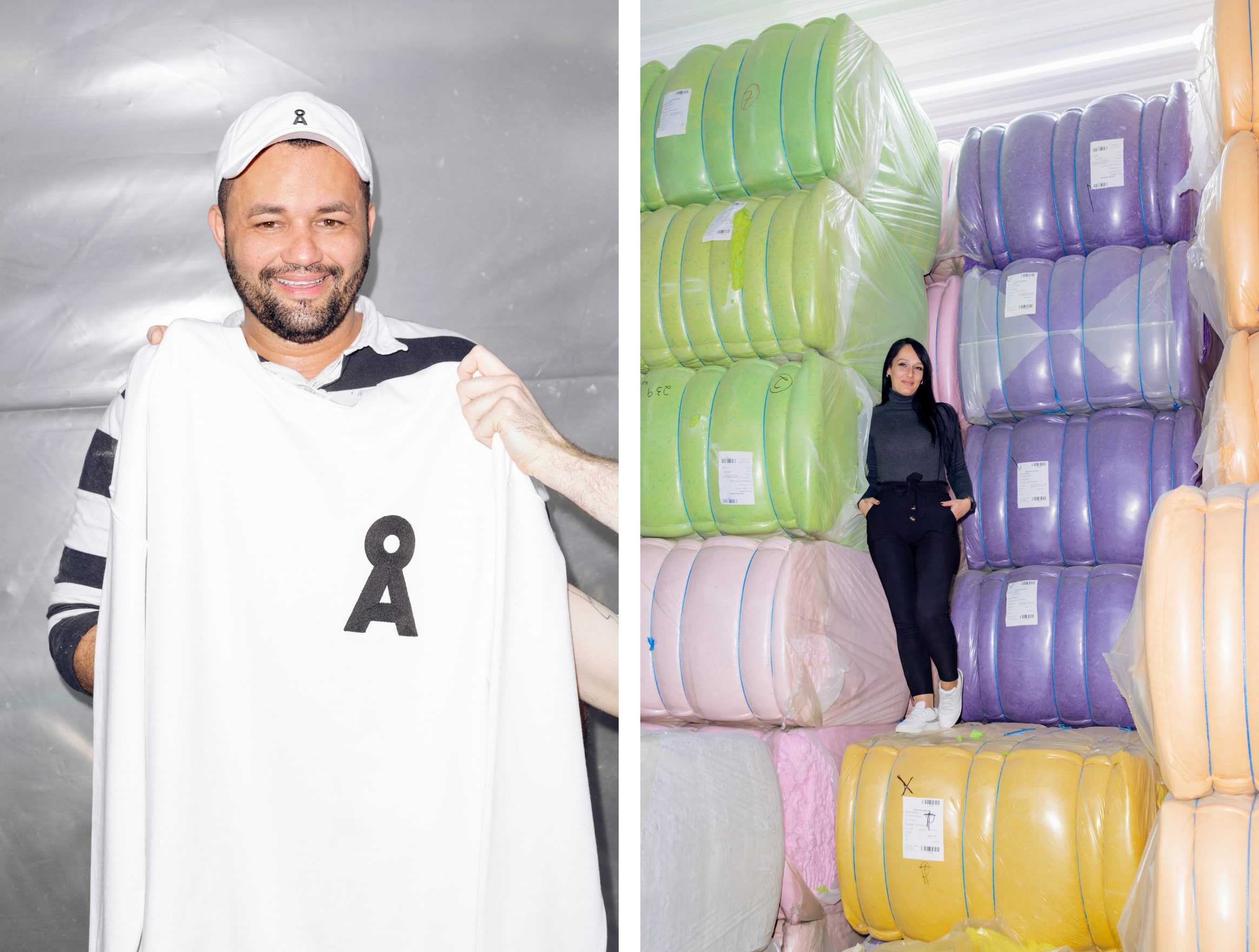 What is the NGWF (National Garment Workers Federation)?
The National Garments Workers Federation is a registered countrywide independent, democratic and progressive Trade Union Federation for garment workers in Bangladesh. They actively support the rights of textile workers in the country and help them to obtain legal protection against unfair payment and unjustified dismissals. NGWF also ensures safe and fair working conditions in textile factories...
How does our donation support NGWF?
With our donation to NGWF, we support the organization in taking legal action against unjust working conditions as well as actively campaigning for women's rights in Bangladesh. NGWF is also working to support workers who have been deprived of income because of Covid-19. At the same time, the union demands the government carry out free Covid tests, free treatment and disinfection measures in the factories. NGWF itself also offers Covid education and provides food aid for fired workers...
Why do you support an organization for garment workers in Bangladesh?
Ready-made garments are the biggest industrial sector in Bangladesh, accounting for more than 42 million workers. As part of their everyday lives, these workers are regularly deprived of basic rights, lose their jobs or face layoffs and unjust terminations after management closes the factory without any notice. On top of this, women workers often face sexual harassment at work. To solve these problems, workers rely on help from the biggest and most powerful federation, NGWF. And given that Bangladesh has the highest number of textile workers negatively affected by fast fashion production, NGWF has a very high impact on the total industry and can bring about positive change in the lives of many, many garment workers...
Why are you selling a T-shirt and not just donating to NGWF?
We're not just selling a T-Shirt. We're creating awareness for a very important issue that too many people don't know about: Fast fashion is a dirty, dirty business. We don't want to donate silently, we want to be loud and create a movement, to reach as many people as possible. That's why we're not only donating all T-shirt profits to the National Garment Workers Federation, we're also raising awareness and standing up for those whose voices aren't heard...