GEORGE FLOYD: ONE YEAR ON.
It was the day the world woke up. 25th May marks one year since George Floyd was murdered. In plain sight. Derek Chauvin has now been prosecuted for the murder of George Floyd. Activism does make a difference.
But people are still being murdered. Ma'khia Bryant was shot 4 times in the chest by the police in Ohio. Just hours before the judgment was announced.
WHERE DO WE GO FROM HERE?
George Floyd's murder inspired Tamika D. Mallory's momentous 'speech of a generation' – a rallying cry for change. We joined forces with her to put her powerful words on fundraising T-shirts.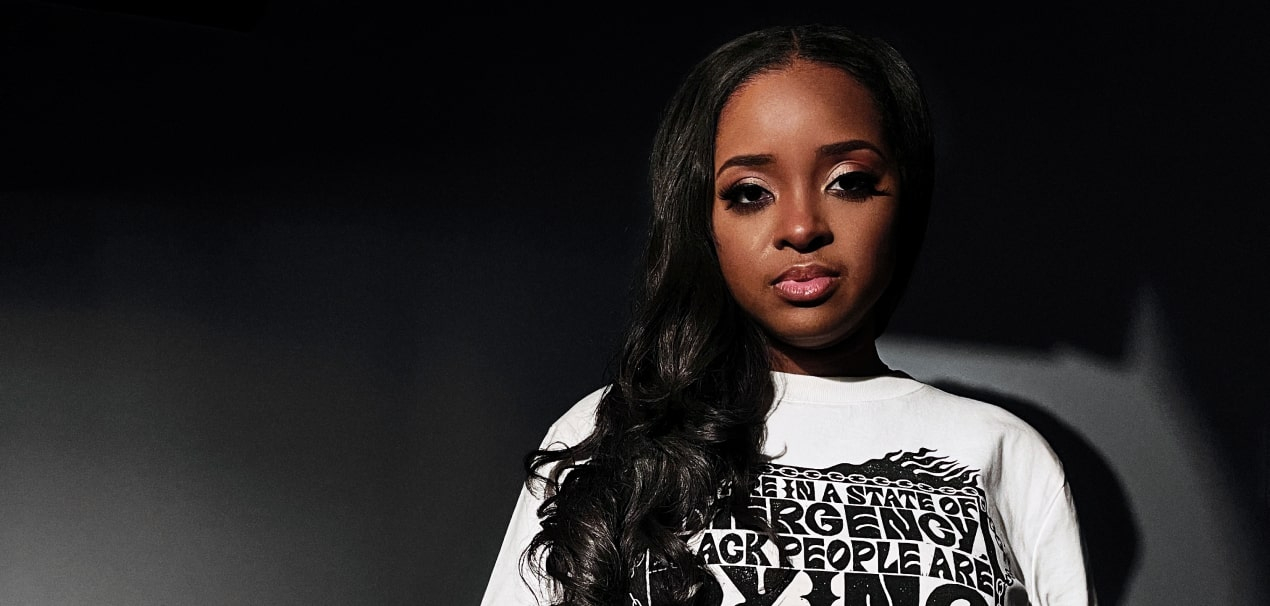 Tamika's charity, Until Freedom fights against systemic racial injustice throughout America.

Solidarity Series is an ongoing series of T-Shirts to fund those on the frontlines of the fight for a world with a future. To bring activists together, and spread their messages.
THE FIGHT FOR FREEDOM
Today's systems and structures are still failing black lives.
Our ambassadors and allies are fighting for freedom – with civil action, movement and poetry. We must learn from the work of Tamika & Until Freedom, Nemonte & Amazon Frontlines and Black Lives activists across Europe. With real understanding, we can take meaningful action.
WHAT CAN YOU DO TO HELP?
We as individuals make up the system. We each have the power to drive change. But we must first LISTEN. LEARN. FEEL and ACT. Below, you'll find just a few ways to help out – right now. Never underestimate the power of YOUR voice. Use it to show solidarity with the Black Lives Matter movement, wherever you are in the world.
ACT
Join a protest (This is still one of the most powerful tools you have for enacting social change)
Donate to bail funds, mutual aid support groups and grieving families

Support Black creators and business owners


A MOVEMENT

, NOT A MOMENT

The battle for Black lives goes on. We want to express solidarity with everyone taking a stand against injustice. Keep listening and learning. Revolutions take time, dedication and action. Keep your ears open. There will always be new ways you can help.


We've always been committed to making ARMEDANGELS a diverse and inclusive business, but there's still much more to do. We all have an ongoing responsibility to listen, learn, unlearn, reflect, and to further take action, so we can be part of the change. We're reviewing everything we do to ensure diversity and inclusion is embedded across all areas of our business and brand.
What is Solidarity Series and why are we doing this?
SOLIDARITY SERIES is an ongoing series of charity T-Shirts to fund those on the frontlines of the fight for a better world, to bring activists together and spread their messages. It's a way for us all to come together to create real action against the most urgent and existential threats to life, wherever they are and whatever the threat: systemic racism, destruction of biodiversity, climate change or others. We must create new ways to collaborate like never before. That's why 100% of all profits will support the most important frontline activists on the planet. Our first edition is a collaboration with Tamika D. Mallory to raise money for Until Freedom: activists, organizers and lawyers in the fight against systemic racial injustice.
Why do we take a stand now and not immediately after the death of Breonna Taylor or George Floyd?
One year after the world took to the streets in protest over Breonna and George and countless others, we made this shirt with Tamika D. Mallory to keep raising money to support Black lives, keep forcing the system to change, keep the momentum going, keep her words out there and keep demanding justice until everyone gets it. Because Black lives always matter. In general, we want to raise a maximum of awareness for this topic and activate people to show resistance against racism.
Why do we have a focus on the US? Germany is equally affected by racism and discrimination.
We know that racism and racial profiling against BIPoC is also relevant for society in Germany and does not only happen in the US. But as proven last year with the Black Lives Matter movement, we saw that what happens at one of the global epicenters of racism (the USA) can have an impact, that makes a difference around the world. That's why we are partnering with Tamika. Of course we want to fight systemic racism in Germany but we must also be global because everything's connected now more than ever.
How much are you going to donate and where to?
100% of profits for the Shirt will be donated to 'Until Freedom', supporting the organization in their fight against systemic racism. Wanna know more about 'Until Freedom'? This way:
https://untilfreedom.com/