Is there a certain clause that excludes textile workers from receiving human rights? Nope! The construct of fast fashion is per se a violation of human rights. We want to change this. Like every year around Fashion Revolution Week, we support the Bangladeshi National Garment Workers Federation. We could already collect almost 25,000€ for NGWF. And this year again, we need your help. The best way to achieve the greatest impact is to work together, right?
Just imagine, the only choice for textile workers is getting infected or going hungry. What does the downtime of sewing machines mean for families when textile workers have to feed an average of five additional people from their wages?
Or the other evil: where fast fashion production continues without any sort of hygiene concepts. For many, a corona infection seems less life-threatening than the dire prospect of losing their job. Unreal isn't it?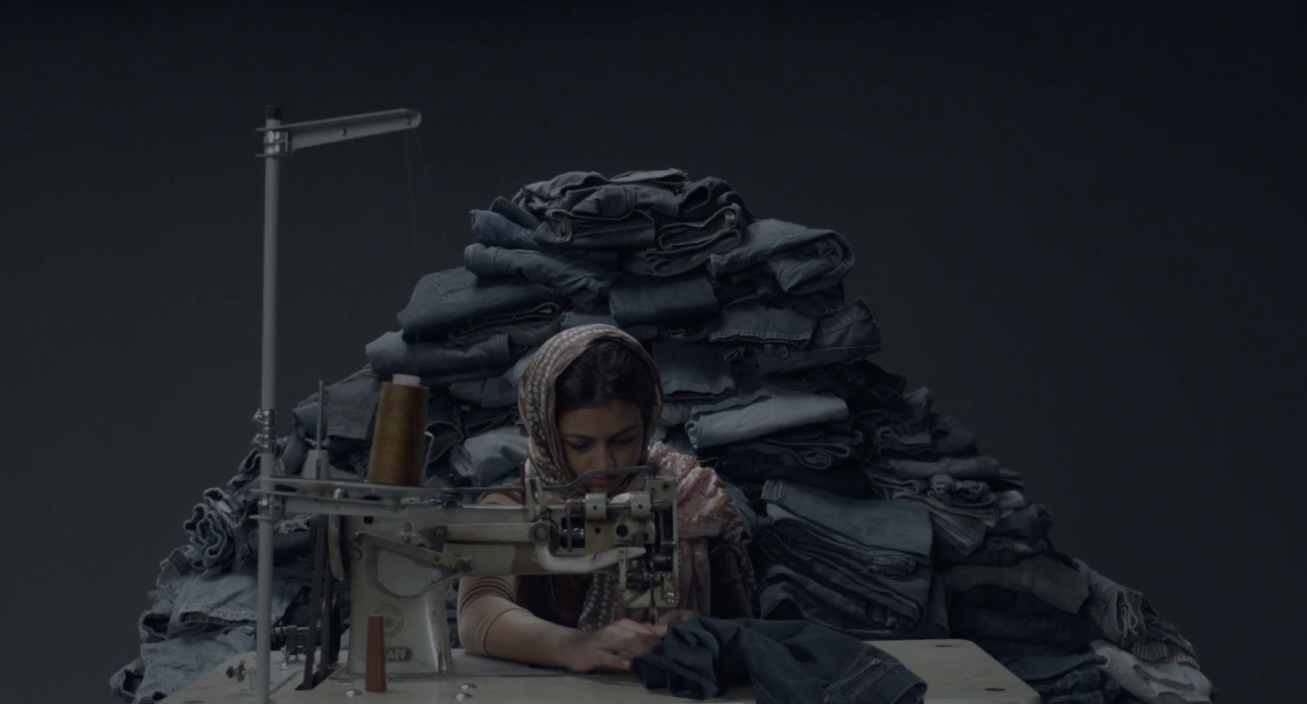 The construct of fast fashion is per se, a violation of human rights and with the pandemic over our heads, this has only escalated further. Covid-19 in producing countries of the global south is a real humanitarian crisis. We have produced this video in 2016. But is has never been more relevant than today.
1,138 people died & to this day not even a memorial plaque
In 2013, the eight-story building 'Rana Plaza', in which many many textile production facilities have manufactured, collapsed. To this day, the site remains without any sort of memorial plaque, which in itself is a symbol. Dusty labels scattered on the empty building site in Savar, are the sole reminder that 1,138 people died here and another 2,500 were injured, whilst making cheap clothes for the West.
The best way to achieve the greatest impact is together. For every comment underneath our post to Fashion Revolution Week on the 24th, the day when 'Rana Plaza' collapsed, we donate 1€ to NGWF and place a memorial plaque on social media for 'Rana Plaza'.
What is the NGWF (National Garment Workers Federation)?
NGFW is an organisation that supports textile workers by taking legal action against bad pay and unjustified dismissals and actively works for more women's rights in Bangladesh.
How does our donation support NGWF?
With our donation to NGWF we support the organisation in taking legal action against poor pay of textile workers and unjustified dismissals as well as actively working for more women's rights in Bangladesh. As part of Covid-19, the NGWF is working on support funds for the workers who have been deprived of their income.

In the light of Covid-19, the organization supports textile workers, who have lost their livelihoods. At the same time, the NGO demands that the government carry out free corona tests, free treatment and disinfection measures in the factories. In addition, the NGWF itself organises Corona education - and within its means food aid for suddenly dismissed workers.
What impact did we create with our donations to NGWF during the last years?
We could already collect 25,000 € for the NGWF. This resulted in 180,000 € compensation paid to the textile workers so far.
Why is there no 'It's on us…' Donation Shirt this year?
We believe, that it does not necessarily need a t-shirt to support. If you have bought our 'It's on us to...' shirt in the past years, feel free to wear it again this year and make a statement on social media.
Stay tuned and follow us on Instagram
Anyone who criticizes, should have solutions ready, right?
Fair fashion is only fair when each and everyone within the supply chain is treated fairly. So here we go: This is how we make fashion, that causes change for people:
CEO, MARTIN HÖFELER
And now, concrete actions:
Standstill, what? For all we were able to do in the fight against fast fashion and for people and the environment despite the pandemic.