We trace our cotton. Buy our coffee single-estate. We know our winemakers by name. Why then are most of us still so unmoved by where are clothing dyes come from? Now, what if we told you our new dyestuffs were made from waste left over from agricultural and herbal industries? That's right: beetroot to boilersuit, palmetto to tee – we're closing the loop and turning one industry's trash into our treasure.
Waste(s) Less!
Natural dusty rose, natural indigo, natural rose and natural forest – our new autumnal color palette is made from beetroot and palmetto waste produced by herbal and agricultural industries. The natural raw material guarantees full waste management into own production.
Natural rose & natural dusty rose

DYEING COMES NATURAL
Boilersuit, tee, denim and sweats - we threw on our new collection of naturally dyed everyday staples and drove out to @gaia_feed in Gerswalde near Berlin to reconnect with the land and experience first-hand where the dyes come from.
Natural rose & natural dusty rose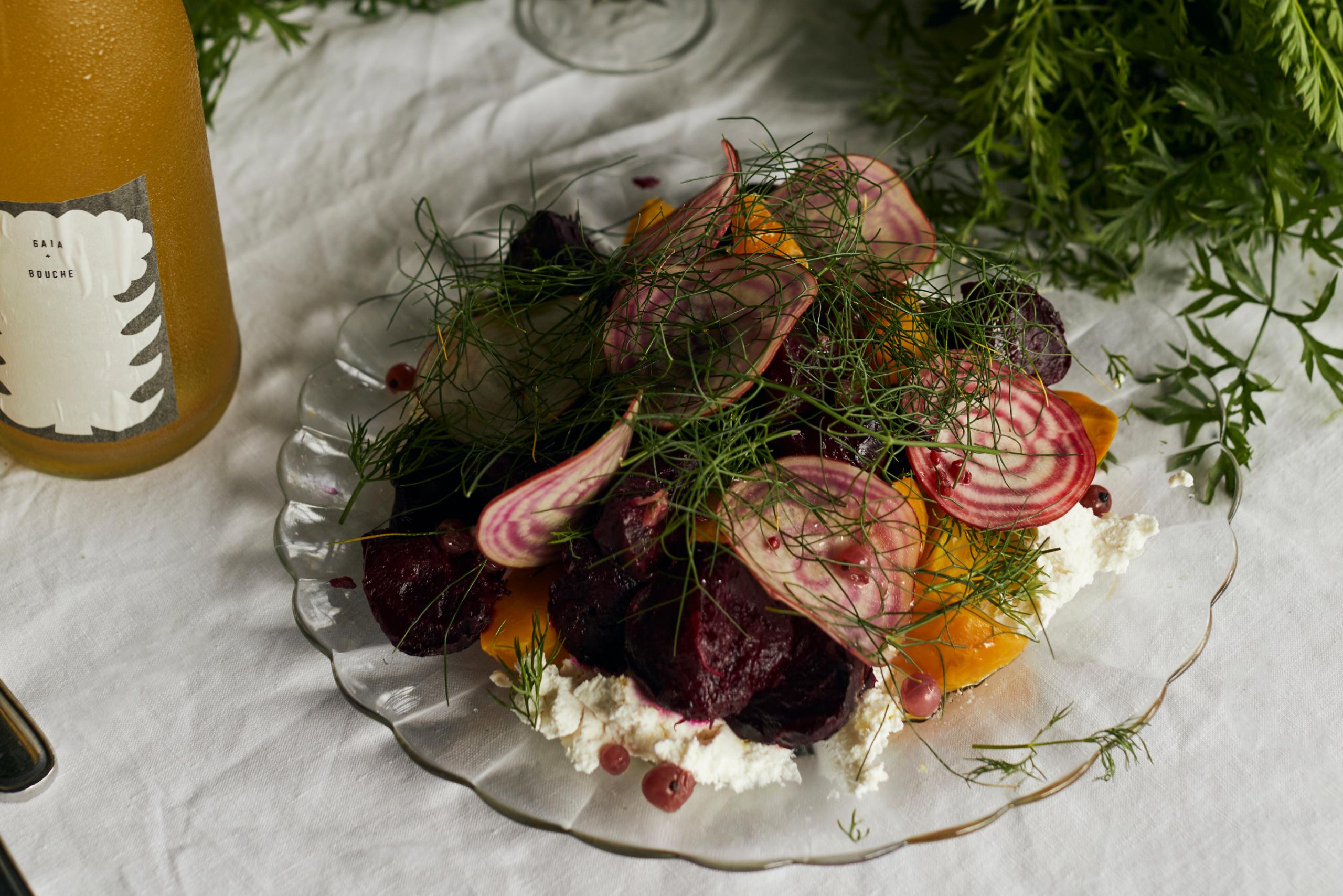 Beets with fresh ricotta, berries and dill
Ingredients (for 4 people)
Salad:
4 red beet
4 yellow beets
1 chioggia beet
4 small zucchini
250g ricotta
1 tbsp buckwheat
1 lemon
1 small bunch of dill
100g raspberries or (white) currants
Olive oil
Maldon Salt
Preparation:
Put the yellow and red beets in a pot and cover with water. Bring to a boil and cook until tender (ca. 45 minutes). Strain and leave to cool. Peel the beets and cut into wedges or bite size chunks. With a mandolin, slice the (raw) chioggia beets and set aside / cool until serving
Toast the buckwheat in a pan on high heat until nicely browned and occasionally stir, for about 5 minutes.
Put the beets into a bowl and season with olive oil, Maldon salt and lemon zest. Mix well. Spread the fresh ricotta onto a large plate. Arrange the cooked beets and on top of the ricotta.
To finish add the berries, toasted buckwheat and dill and the sliced chioggia beets.
This is our favorite lunch on a warm summer day in the garden.
Details and frequent questions
How do I care for my Dyed by Nature item?
Due to the natural dyeing process, each Dyed by Nature style is unique. The natural colors vary and can change over time. Make sure to wash your garment with the same color dye, so that they are not discolored. You should also avoid the use of chemical detergents.
What is the material of the Dyed by Nature collection made of?
The garments are mainly made of 100% organic cotton. Partially, the pants contain a minimum amount of elastane.
What exactly is so special about Dyed by Nature?
Dyed by Nature colors are made from natural waste products from the plant and agricultural industries. Archroma's EarthColors® technology helps reduce the negative impact on water consumption, human well-being, natural resource use and climate change. In addition, we contribute to a circular economy with this dyeing process that upcycles waste from other industries. The consumption of natural waste material has no negative impact on any steps within the dye production process, as well as water and energy consumption and waste production. By making full waste recycling an integral part of our dyeing process, we are taking a big step towards our goal of being completely waste-free & circular.