TOGETHER WITH GERMANZERO, WE ARE CALLING FOR A FAIRER, MORE SUSTAINABLE WORLD. BY USING OUR POWER TO SUPPORT THOSE ON THE FRONT LINES FIGHTING FOR THIS GOAL.
Not a goal; a must: climate neutral by 2035!
We're the last generation that can avert a climate disaster. That's why we use our voices and power to push climate policy forward and raised 13.310€ to support GermanZero
The climate couldn't care less about our "good intentions." Emissions will keep rising and species will face a rate of extinction faster than ever before. What we need are big changes to avert the climate catastrophe, and we can make them happen! Easy? No. Necessary? 100%! It's up to us. Make your voice heard. Use it to demand a climate-safe future.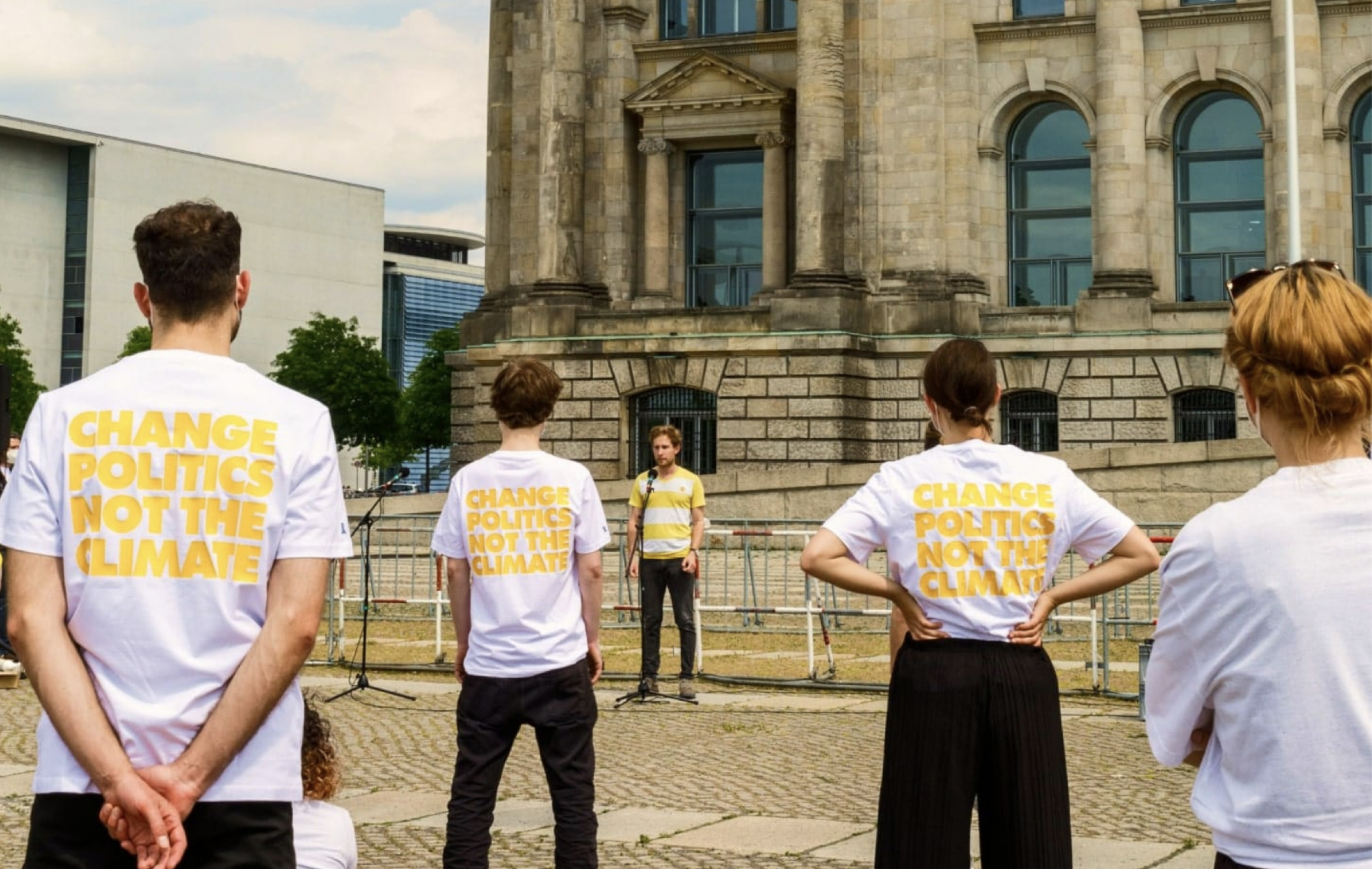 GermanZero and ARMEDANGELS demand 1.5° now!
With the clock ticking ever louder, far too little is happening. That's why we teamed up with the NGO 'GermanZero' to create the 1.5° tee. What does that exactly mean? With a legislative package for climate protection, the organisation presents concrete measures to achieve set targets. Aiming, that the next German Bundestag will implement the legislative package, GermanZero mobilizes citizens in Germany and supports local decisions on climate. With great public participation of economy, science and civil society, GermanZero demands from political representatives the only right thing to do: achieve the 1.5-degrees target.
Be a part of the movement for a better future and show it – with our 1.5° tee. All profits from T-shirt sales will be donated to 'GermanZero'.
Learn more about GermanZero:
GermanZero - Deutschland bis 2035 klimaneutral machen
Vote future. Take a stance!
We do not have a political mission, but we're feeling a 'political calling', the urgent need for a legislative package. Why? Because the Federal Government simply has no plan with concrete measures achieving the 1.5-degrees target.
GermanZero
Frequently asked questions
Why is GermanZero developing a 1.5-degree climate protection law?
We are the last generation that can avert the climate crisis. However, with its current climate policy, Germany is contributing to global warming well above 1.5 degrees. Despite its role as one of the world's leading economies, Germany's climate performance is lagging behind even the EU average. A long way away from achieving the targets set by the Paris Climate Agreement. That's why GermanZero is contributing to the climate movement with its unique approach: proactively developing a 1.5-degree legislative package together with experts, citizens, and stakeholders and offering concrete solutions to make Germany climate neutral by 2035.
We donate all the profits we make from T-shirt sales to the NGO 'GermanZero'. The organization aims to drive climate protection with its 1.5-degree climate law, ensuring that Germany become climate neutral by 2035.
How are you actively supporting change in politics and putting climate protection at the top of the agenda?
Our mission has always been to use business as a force for positive change. We started by producing fair and sustainable T-shirts. But we don't just want to change the fashion world, our ultimate goal is to take action and help change the system. That's why we also support those who are fighting to create a more sustainable, more equitable world – like GermanZero.
We are actively working to implement the changes we want to see in the world! To that end, we actively use our sustainable shirts to make a statement.
How does your t-shirt ensure an equitable and climate-friendly future?
Just as GermanZero does, we work every day to protect our planet. But no matter how ecological or fair we produce something, resources are being consumed. Our solution: keeping resources in a loop for a climate-friendly future. Circularity is the first step to keep resources in a loop. With set 'interventions' – meaning political and legal regulations – GermanZero aims to contribute to the transformation of the linear economy towards a circular economy. To save on resources. And that is why our 1.5°-Tee a circular tee. Made from our own garbage. We want to make fashion not only the problem, but also the solution.